Before we get into the books, I wanted to ask you about essays generally. In your introduction to The Best American Essays of 2008 you have a rather nice phrase: "The essay is a classical form for short-winded Romantics." What do you mean by that?
What I mean is that in lots of ways essay writing is classical, in the sense that it works if it's poised, elegant, compressed, composed – it's not a rhapsodic outpouring of emotional language. At the same time, what distinguishes it from true criticism is that its purpose is usually to communicate some emotional state or the alteration of an emotional state, rather than an argument.
There are certain kinds of criticism that I think of as essentially essays – Clive James or Randall Jarrell's criticism, for instance – whereas there are other critics whom I admire just as much – say [William] Empson and [WH] Auden – but whom I don't think of as essayists. They're superior literary critics.
Is the distinction to do with the presence of the "I" in their work?
The "I" need not appear in the piece, but it's always implicit in the essay. Empson and Auden want to win you round to their point of view, Jarrell and James want to make their experience persuasive. Of course, one of the best ways of winning you round to a point of view is to make your experience persuasive, and one of the best ways to make your experience persuasive is to win you round to a point of view!
There are no absolute lines in this. But there does seem to me a real difference between the things Empson – who is an absolutely wonderful writer and an amazing companion – is trying to do in his critical articles and the things Jarrell is trying to do in his. Jarrell conceives of criticism poetically. That is, that it should have some of the surprise and delight of personal revelation: "I felt this then, and I passed through the prism of a work of writing" rather than "this is a general truth of literature".
With essayists, we feel we're reading their first names rather than their honorifics. We're reading Clive and Virginia and Randall rather than James and Woolf and Jarrell, in a way we never feel we're reading William and Wystan rather than Empson and Auden.
You have written that the essay has an implicit politics to it, and that the job of the essay is "to drain the melodrama from overwrought debate and replace it with common sense and comedy".
Did I say that? When you think [of essays] historically, beginning with Montaigne, one of the things Montaigne does – at a time of violent and feverish religious debate – is he makes the case for both and at once, for either and or, for the division within oneself. That there is no pure or certain state which we can be in in our mental lives.
Even someone as seemingly non-political as Max Beerbohm is placed at the intersection of all kinds of political passions – Oscar Wilde and George Bernard Shaw's socialism, Rudyard Kipling's imperialism and so on – and he makes fun of them all. That's one of the things that makes Beerbohm attractive. In a very decorous and mischievous way, he mocks that kind of ideological passion.
EB White did the same kind of thing when writing in the 1930s. His arguments against fascism and totalitarianism are not rhetorical but highly particular, trying to assert the actual fabric of life as it is rather than accepting abstraction. Maybe that's a good way of putting it. The essay is against abstraction, and by being against abstraction it is against ideological thought.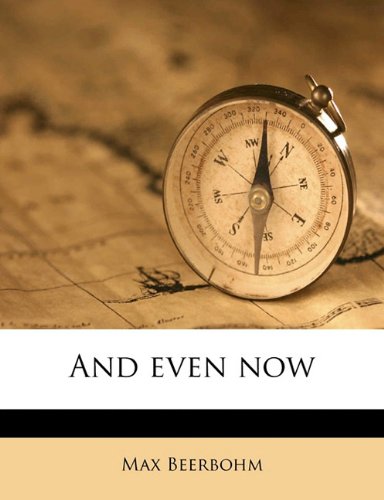 1
And Even Now
Max Beerbohm
Buy
You mentioned Beerbohm. Let's begin with his book And Even Now. You said his approach was to parody and make light of things. He was also a caricaturist. Do you see a link between his illustrations and his essays?
Yes, absolutely. He was a caricaturist with remarkable insight and relatively little malice in his parodies and cartoons. He found the pomposities of over-zealous ideology absurd. He also had a lovely vein of affection. One of my favourite of his picture-books is called RossettiandHisCircle. It's basically imaginary pictures of Rossetti and the Pre-Raphaelites in their very complicated domestic life. The implicit theme of the whole book is that behind the Pre-Raphaelite dream of the perfect Botticelli nymph and the medieval romantic life is this very funny, furtive domestic life in Chelsea [London]. Constantly referring dream-life back to reality is another way Beerbohm works.
He's an essayist who isn't so widely read these days. Why do you think that is?
For me, Beerbohm has an almost dangerously perfect tone – a mixture of benign serenity and quiet intellectual authority that I think is the tone every essayist searches for. It's not accidental that Beerbohm was influential on the first generation of The New Yorker writers, people like Wolcott Gibbs.
One of the dangers of that tone, though, is that it can seem unduly complacent or self-satisfied. I suspect that the note of complacency in Beerbohm's writing is kind of out of kilter with the times. It's a note that was so hugely popular for 50 or 60 years that I guess it came to seem old-fashioned. If you ever read old collections of light editorials from The London Times, they all strive for the Beerbohm sound. Inevitably, when a sound gets imitated for too long it becomes a little empty.
Beerbohm is also not a writer of fanatic passion or political certainty. You can't consult him directly for the quote you might need about the topic of the day. For those reasons, he's gone a bit out of fashion. But he remains a wonderful writer, and for me the best witness of that period – the end of the Victorian age and the beginning of the modern age.
What do you think he writes best about?
Literature. My favourite of his essays are ones like "A Clergyman", which is a very close, loving analysis of an obscure passage of [James] Boswell's TheLifeofSamuelJohnson. A clergyman, identified in no other way, squeaks out a little objection to something Dr Johnson has said, and Johnson crushes him with his rejoinder. Beerbohm reflects on the lost and hidden life of this clergyman, who made one brief bid for literary immortality and whose name even Boswell couldn't recall.
Another favourite is called "William and Mary", and is a memory of a couple he has known since his Oxford days. It's a really beautiful story that has an almost Proustian quality.
There's something about a shiny new collection of essays that makes my heart beat a little faster. If you feel the same way, can we be friends? If not, might I suggest that perhaps you just haven't found the right collection yet? I don't expect everyone to love the thought of sitting down with a nice, juicy personal essay, but I also think the genre gets a bad rap because people associate it with the kind of thing they had to write in school.
Well, essays don't have to be like the kind of thing you wrote in school. Essays can be anything, really. They can be personal, confessional, argumentative, informative, funny, sad, shocking, sexy, and all of the above. The best essayists can make any subject interesting. If I love an essayist, I'll read whatever they write. I'll follow their minds anywhere. Because that's really what I want out of an essay — the sense that I'm spending time with an interesting mind. I want a companionable, challenging, smart, surprising voice in my head.
So below is my list, not of essay collections I think everybody "must read," even if that's what my title says, but collections I hope you will consider checking out if you want to.
1. Against Interpretation — Susan Sontag
2. Alibis: Essays on Elsewhere — André Aciman
3. American Romances — Rebecca Brown

4. Art and Ardor — Cynthia Ozick
5. The Art of the Personal Essay — anthology, edited by Phillip Lopate
6. Bad Feminist — Roxane Gay
7. The Best American Essays of the Century — anthology, edited by Joyce Carol Oates
8. The Best American Essays series — published every year, series edited by Robert Atwan
9. Book of Days — Emily Fox Gordon
10. The Boys of My Youth — Jo Ann Beard
11. The Braindead Megaphone — George Saunders
12. Broken Republic: Three Essays — Arundhati Roy
13. Changing My Mind — Zadie Smith
14. A Collection of Essays — George Orwell
15. The Common Reader — Virginia Woolf
16. Consider the Lobster — David Foster Wallace
17. The Crack-up — F. Scott Fitzgerald
18. Discontent and its Civilizations — Mohsin Hamid
19. Don't Let Me Be Lonely: An American Lyric — Claudia Rankine
20. Dreaming of Hitler — Daphne Merkin
21. Self-Reliance and Other Essays — Ralph Waldo Emerson
22. The Empathy Exams — Leslie Jameson
23. Essays After Eighty — Donald Hall
24. Essays in Idleness — Yoshida Kenko
25. The Essays of Elia— Charles Lamb

26. Ex Libris: Confessions of a Common Reader — Anne Fadiman
27. A Field Guide to Getting Lost — Rebecca Solnit
28. Findings — Kathleen Jamie
29. The Fire Next Time — James Baldwin
30. The Folded Clock — Heidi Julavits
31. Forty-One False Starts — Janet Malcolm
32. How To Slowly Kill Yourself and Others in America — Kiese Laymon
33. I Feel Bad About My Neck — Nora Ephron
34. I Just Lately Started Buying Wings — Kim Dana Kupperman
35. In Fact: The Best of Creative Nonfiction — anthology, edited by Lee Gutkind
36. In Praise of Shadows — Junichiro Tanizaki
37. In Search of Our Mother's Gardens — Alice Walker
38. Is Everyone Hanging Out Without Me? — Mindy Kaling
39. I Was Told There'd Be Cake — Sloane Crosley
40. Karaoke Culture — Dubravka Ugresic
41. Labyrinths — Jorge Luis Borges
42. Living, Thinking, Looking — Siri Hustvedt
43. Loitering — Charles D'Ambrosio
44. Lunch With a Bigot — Amitava Kumar
45. Madness, Rack, and Honey — Mary Ruefle

46. Magic Hours — Tom Bissell
47. Meatless Days — Sara Suleri
48. Meaty — Samantha Irby
49. Meditations from a Movable Chair — Andre Dubus
50. Memories of a Catholic Girlhood — Mary McCarthy
51. Me Talk Pretty One Day — David Sedaris
52. Multiply/Divide: On the American Real and Surreal — Wendy S. Walters
53. My 1980s and Other Essays — Wayne Koestenbaum
54. The Next American Essay, The Lost Origins of the Essay, and The Making of the American Essay — anthologies, edited by John D'Agata
55. The Norton Book of Personal Essays — anthology, edited by Joseph Epstein
56. Notes from No Man's Land — Eula Biss
57. Notes of a Native Son — James Baldwin
58. Not That Kind of Girl — Lena Dunham
59. On Beauty and Being Just — Elaine Scarry
60. Once I Was Cool — Megan Stielstra
61. 100 Essays I Don't Have Time to Write — Sarah Ruhl
62. On Kissing, Tickling, and Being Bored — Adam Phillips
63. On Lies, Secrets, and Silence — Adrienne Rich
64. The Opposite of Loneliness — Marina Keegan
65. Otherwise Known as the Human Condition — Geoff Dyer
66. Paris to the Moon — Adam Gopnik
67. Passions of the Mind — A.S. Byatt

68. The Pillow Book — Sei Shonagon
69. A Place to Live — Natalia Ginzburg
70. Playing in the Dark: Whiteness and the Literary Imagination — Toni Morrison
71. Pulphead — John Jeremiah Sullivan
72. Selected Essays — Michel de Montaigne
73. Shadow and Act — Ralph Ellison
74. Sidewalks — Valeria Luiselli
75. Sister Outsider — Audre Lorde
76. The Size of Thoughts — Nicholson Baker
77. Slouching Towards Bethlehem — Joan Didion
78. The Souls of Black Folk — W. E. B. Du Bois
79. The Story About the Story — anthology, edited by J.C. Hallman
80. A Supposedly Fun Thing I'll Never Do Again — David Foster Wallace
81. Ten Years in the Tub — Nick Hornby
82. Thirteen Ways of Looking at a Black Man — Henry Louis Gates
83. This Is Running for Your Life — Michelle Orange
84. This Is the Story of a Happy Marriage — Ann Patchett
85. Tiny Beautiful Things — Cheryl Strayed
86. Tuxedo Junction: Essays on American Culture — Gerald Early
87. Twenty-eight Artists and Two Saints — Joan Acocella
88. The Unspeakable — Meghan Daum
89. Vermeer in Bosnia — Lawrence Weschler
90. The Wave in the Mind — Ursula K. Le Guin
91. We Need Silence to Find Out What We Think— Shirley Hazzard
92. We Should All Be Feminists — Chimamanda Ngozi Adichi
93. What Are People For? — Wendell Berry
94. When I Was a Child I Read Books — Marilynne Robinson
95. The White Album — Joan Didion
96. White Girls — Hilton Als
97. The Woman Warrior — Maxine Hong Kinston
98. The Writing Life — Annie Dillard
99. Writing With Intent — Margaret Atwood
100. You Don't Have to Like Me — Alida Nugent
If you have a favorite essay collection I've missed here, let me know in the comments!
News, new releases, and reading recommendations for nonfiction readers!
By signing up you agree to our Terms of Service
#Lists